Definitions :
Monkey Business : Individual must share his/her goods with society, whatever they may be.
Treat : KGP's way of doing Monkey Business. Hey ! You got a job. Why not let us milk some of that monetary blessing. Sure, since we are humans in a society, it may not be appropriate to deal in cash, or divide it amongst ourselves. So allow me to consume enough alcohol and food, to add up to around the same amound of money, as I would have received, if I was not bound by society's rules. Job @ Infosys - Booze treat Rs 1000/- should be fine. Job @ L&T - Now I must receive compensation of at least 1500/-. Job @ Mckinsey - hehe...get ready to curse God for making you so charming and smart !
Photo abbreviations - ALL made up. I know nothing about the art. I just opine
Treat Rules
Rule no 1
: They all look the same.
Rule no 2
: Some moron or the other
always
gets sento. Sento involves tumbling, being utterly dependent on others for reaching your room, talking loudly and insensibly, having lenghty conversations about nothing - and having fun doing all this.
Rule no 3
: You can either pig out on starters, or on the food. You can't have the cake and eat it too. You can't have the Tandoori Chicken and eat the Paneer Butter Masala too.
Rule no 3
: All treat photos invariably look terrible. Here's the explanation :
Photographs at treats are always constrained by the silly table. It's 2' X 5' and obviously, someone's got to be at the other end. And hence the photographer, the unfortunate member of the gang who isn't in the photo has to either sit-and-click (SAC) or Click-at-end-of-table (CAEOT).
The Taxi Ride
: For some reason, the treat members want to capture the journey to the food joint. Hence, the guy with enough volition to place the camera at a suitable angle, clicks. And the result is usually something like this :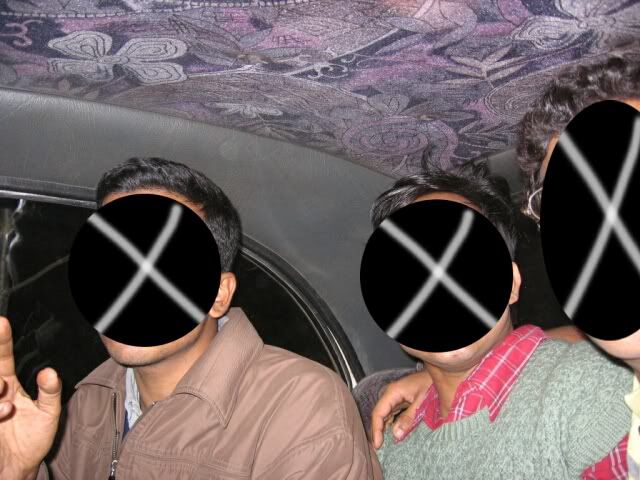 Ugly guy, guy, guy in half
The CAEOTs
: CAEOTs always involve obnoxiously large faces at the front and disregardable faces behind those two. A sample...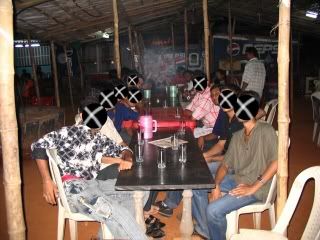 2 bright guys, rest irrelevant
Sometimes, the photograher tries to capture SOME members of the gang. That turns out to be even more hideous. Weird angles (WA's), Big Faces (BF's) and an ugly photo overall.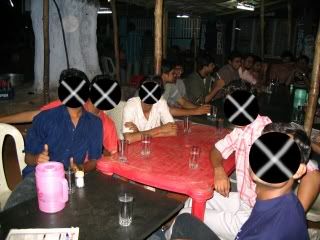 Sweet memories ? I don't think so!
The SAC's
: SAC's are a result of the lethargy of the photograher and the LOE (lack of enthu) of the others. Some manage to get captured by the frame. Rest, well nobody will ever know what they were upto at that second.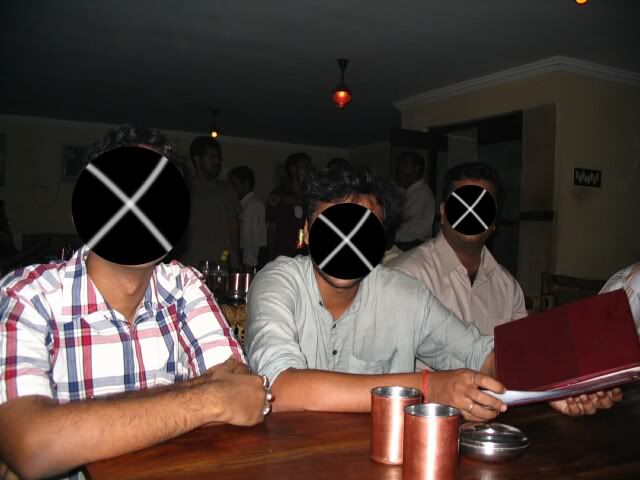 bright guy, guy, irrelevant
The End
: After all the food mayhem is over, some still have the urge to capture those moments. Nobody's interested, few notice him and the photo turns out like this :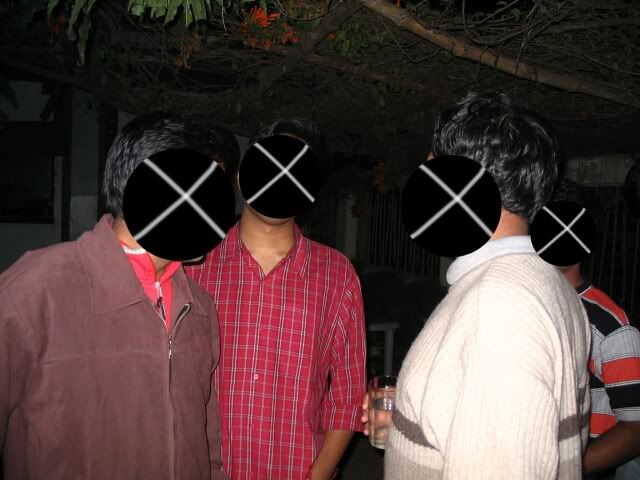 not looking, looking, not looking, irrelevant
The participants, regardless of the grotesque nature of the products, want to cherish these photos as proof of their drunkenness. The collection is never made presentable. Should I delete this blurred photo ? NOOO..Why trash it, when my 80GB hard disk can store all the crap I can want ! Why not click at 1024x768 - that's the best resolution you'll need for such photos...NOOO...Go for the best - 2048x1536. Why have small files, when you can store crap in larger spaces !
And hence these treats thrive - eating our bank accounts, our time, our health, our hard disk and our sweet memories, which are rapidly losing their saccharified essence..
Iyer,
treat kab de rahe ho ?
grrrr....
Have a banana...