By the time you coloured morons get back from your strenuous
Holi Tolis
and splish-splash activities, I hope this piece of text won't spark any fresh enthusiasm to knock at my door.
I am not celebrating Holi this year
. Oooh ! That sounds quite deep - like a stand against the cartoon controversy thing. But it's not. It's pure 100% unadulterated lethargy. Here are a few pictures from last year's celebrations.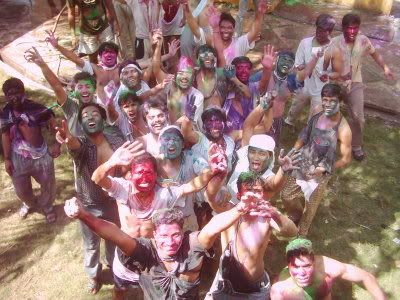 As you can see, I can't just walk out of my room and be back in an hour or so. KGP Holi stuff are a wee bit intensive. Frankly, I haven't celebrated Holi 'dirty' before Kharagpur. All school level hungama had normal colours, a
pichkari
(cool kids had the steel variety, and I had the fragile plastic ones) and water balloons in later years.
Permanent colours
were banned for us. All those
bhaiyas
who would walk by adorned in shades of silver and gold would draw gasps of awe and respect.
Kharagpur involves around 600 students per batch, from which at least half venture out each year into Scholar's Avenue for a grand celebration. Every moron who may or may not be an acquaintance will have the right to do 'Holi Things'. As a warm gesture, he'll first possess a part of my clothing - preferably the shirt. Then, colours of any kind will be applied anywhere. Any kind of objection will only exacerbate my plight. When the clothing eventually reduces to a tenth of it's size, the participants will stop indulging in Step one. All this supposedly is the crux of Holi. I'd love to use the phrase
he/she
in all these sentences. But interaction with she's is rare. Yes, the girls do form their own 'tolis' and roam around the campus. But they pass by in a flash - a whiff of good clothing and holi-like-it-should-be. Sure, they all look quite unpleasant. Still, there isn't a worse moment to be partially undressed/naked than in front of fifty odd females. No festival can justify my paunch and torn clothes.
So go ahead - enjoy life. It's March - the month of spring, rebirth, everything blooming and all that crap.
Happy Holi everyone.